Magnetism & Accretion
A conference in memory of Darragh O'Donoghue
Cape Town, South Africa
16 – 19 January 2023
A multi-disciplinary international meeting on the topic of magnetically influenced accretion and outflows throughout the Universe

A conference to remember
The recordings of the presentations delivered at the conference may be found on the programme page.
Welcome to CAPE Town
Held as a hybrid meeting from 16 to 19 January 2023 in Cape Town, Magnetism & Accretion 2023 will cover a variety of topics, including:
compact binaries with accreting white dwarfs, neutron stars or black holes
disk/jet connections and accretion driven outflows
AGNs and blazars
proto-stellar systems, YSOs & planets
GRBs, kilonovae and associated objects
computer simulations of accretion and outflows
The conference will focus on the study of objects and physical processes that occur when magnetic fields influence accretion. These include magnetically dominated regions around accreting sources, including black holes, neutron stars, white dwarfs, young stellar objects and planets. Despite the differences between these sources in terms of mass, radius, and formation history, they are all characterized and influenced by the presence of magnetic fields, which regulate the interaction between the accreting object, its potential companion and the surrounding environment.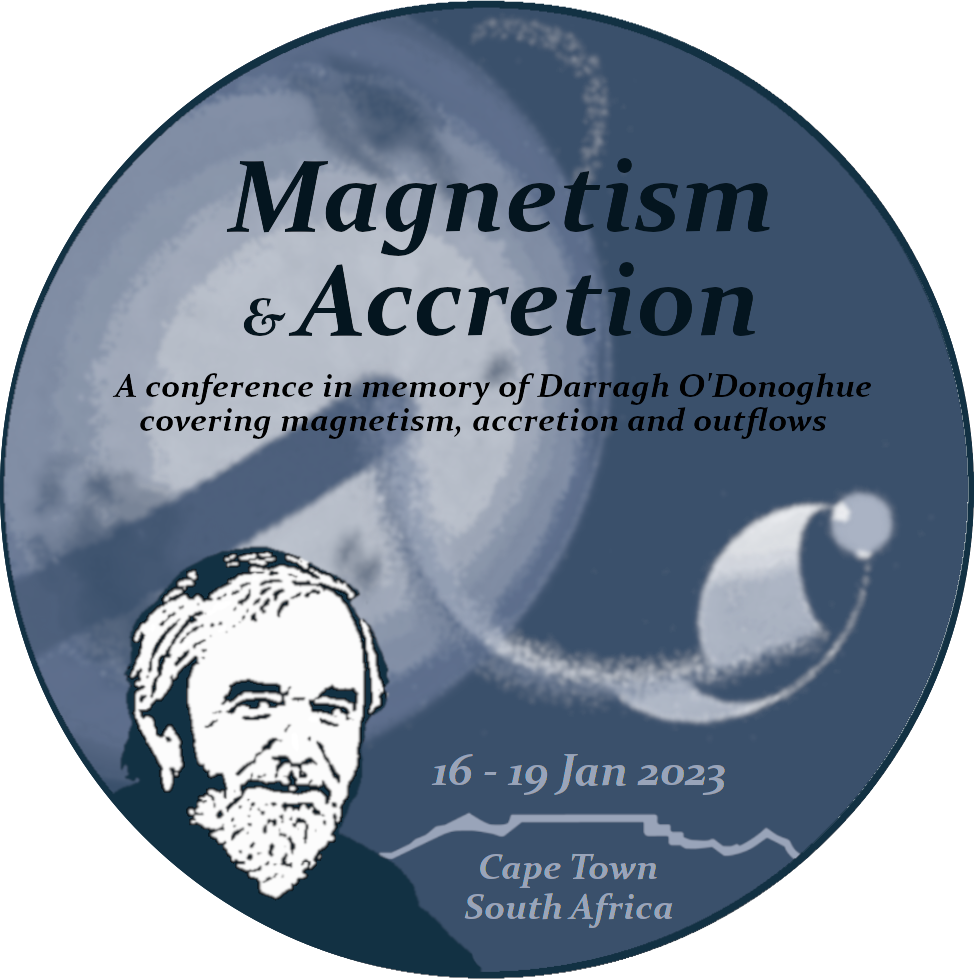 Invited Speakers
The following invited speakers have confirmed their attendance.
Silvia Alencar (Federal University of Minas Gerais)
Sudip Bhattacharyya (Tata Institute of Fundamental Research)
Dmitry Bisikalo (Institute of Astronomy of the Russian Academy of Sciences)
Deanne Coppejans (University of Warwick)
Elisabete de Gouveia dal Pino (Universidade de São Paulo)
Mario Flock (Max-Planck-Institute for Astronomy)
Jean-Marie Hameury (Strasbourg Observatory)
Moira Jardine (University of St Andrews)
Sthabile Kolwa (University of Johannesburg)
Alex Lazarian (University of Wisconsin-Madison)
Enrique Lopez Rodriguez (KIPAC/Stanford University)
Brian Metzger (Columbia University)
Carole Mundell (University of Bath)
Marina Romanova (Cornell University)
Valery Suleimanov (University of Tübingen)
Andrey Timokhin (University of Zielona Gora)
Alex Tetarenko (Texas Tech University)
Eleonora Troja (University of Rome)
Andrzej Zdziarski (Nicolaus Copernicus Astronomical Center)
Bing Zhang (University of Nevada)
SOC and LOC
Scientific Organizing Committee
Nicholas Achilleos (UK)
Dipankar Bhattacharya (India)
Dmitry Bisikalo (Russia)
Jean-Marc Bonnet-Bidaud (France)
David Buckley (South Africa; Co-Chair)
Domitilla de Martino (Italy; Co-Chair)
Jean-Francois Donati (France)
Lilia Ferrario (Australia)
Alice Harding (USA)
Theresa Lüftinger (Austria)
Pieter Meintjes (South Africa)
Carole Mundell (UK)
Marina Romanova (USA)
Axel Schwope (Germany)
Andrew Shearer (Ireland)
Local Organizing Committee
David Buckley (SAAO; Chair)
Dalene Fischer (SAAO)
Christian Hettlage (SAAO)
Enrico Kotze (SAAO)
Sally Macfarlane (SAAO)
Carol Marsh (UCT)
Shazrene Mohamed (SAAO/UCT)
Nazli Mohamed (SAAO)
Stephen Potter (SAAO)
Glenda Snowball (SAAO)
Patrick Woudt (UCT)
Venue, accommodation and Parking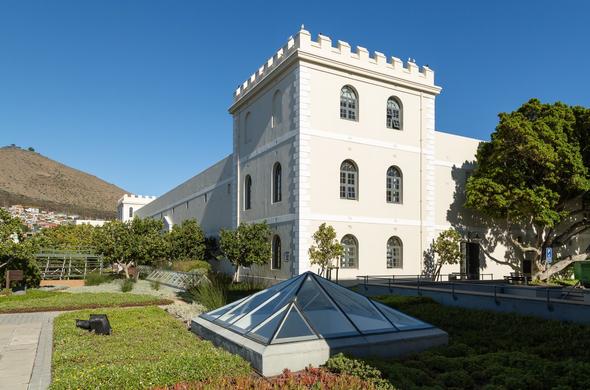 The meeting venue is the Breakwater Lodge conference centre of the University of Cape Town's Graduate School of Business, located in the historic and popular tourist area of the Cape Town Waterfront. Many nearby (walking distance) accommodation options are offered, including the Protea Hotel located on the Breakwater campus, which is offering rooms at a special conference fare. You can find plenty of accommodation options for all kinds of budget on sites like Booking.com or AirBnB.
The maps below show how to find the conference venue, which is the UCT Academic Conference Centre. Please click on the maps to get an enlarged version.
Please use the parking marked as "GSB Conference Basement Parking" on the map. Do not use the Academic Conference Centre Parking. In order to reach the parking, turn from Portswood Road into the hotel parking: Approaching from Helen Suzeman it will be the first right. From the Waterfront it will be the last left, just beyond the hotel pedestrian crossing. The hotel pedestrian crossing is a good landmark to look out for.
Take the first left turn and follow the road down the hill. At the bottom there is a UCT security guard who will open the boom for you and tell you where to park.
See also the aerial view below.
Registration, Deadline & Financial SUPPORT
The registration fee for attending the conference in person is EUR 300. This includes lunches, refreshments, the welcome reception and the conference dinner. There is no fee for attending virtually.
Please use the registration page for registering. The deadline for registrations and talk/poster abstracts is 15 December 2022 or, if you apply for financial support, 20 November 2022.
We hope to be able to support some younger participants (students and postdocs) through registration fee waiver and accommodation subsidies. You may apply for such support when registering. Those seeking financial support should register for the meeting at the earliest opportunity, before the registration deadline. The limited funding available means we will need to allocate on a first-come first-served basis.
Before Coming TO South Africa
The Department of Home Affairs website offers details regarding visa requirements for visitors to South Africa, including a list of countries who are exempt from visas for short-term visits. You are strongly encouraged to double-check the requirements with your travel agent, your local South African consulate or another reputable source.
Even if you do not need a visa it is absolutely essential that you have two clean pages in your passport to receive the permit on arrival, or you might not be admitted to South Africa.
Please contact us if you require a letter of invitation for your visa application.
Arriving in Cape ToWN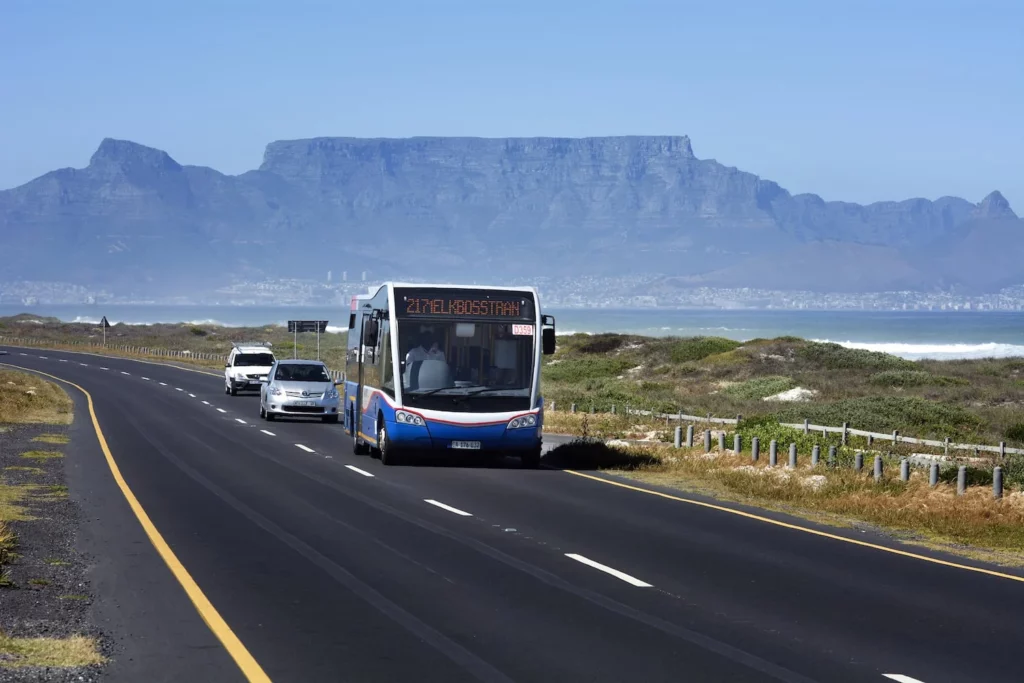 After you arrive at the airport in Cape Town, there are various ways of getting to your accommodation:
During the day, Uber is generally available. Please follow the signs for e-hailing. If you arrive early in the morning or late in the evening, this might not be an option, though.
If your accommodation is at the Waterfront or in the city centre, you might be able to use the MyCiti bus. You need to purchase a myconnect card, which is available from the MyCiti kiosk just outside the terminal building.
There are official airport taxis, which you can book from a desk in the terminal building.
You will likely be approached by people offering you a taxi service. It is advisable not to take up such offers.
Things to do in Cape Town
There are plenty of things to do in Cape Town beyond the conference. Here are some examples.
You can reach the top of Table Mountain in a leisurely fashion with its cable car.
On Robben Island amongst others you get to see Maximum Security Prison where thousands of South Africa's freedom fighters were incarcerated for years. The tour of the island culminates with a viewing of Nelson Mandela's cell. Booking is essential.
The Hop On & Off double-decker buses offer a great opportunity to enjoy scenic views of Cape Town while learning interesting facts.
Various beaches allow you to go for swimming and surfing.
Simon's Town is famous for its penguins at Boulders Beach.
Set against the slopes of Table Mountain, Kirstenbosch Botanical Garden is one of the great botanical gardens of the world.
You can discover more about Cape Town on the Cape Town Tourism site.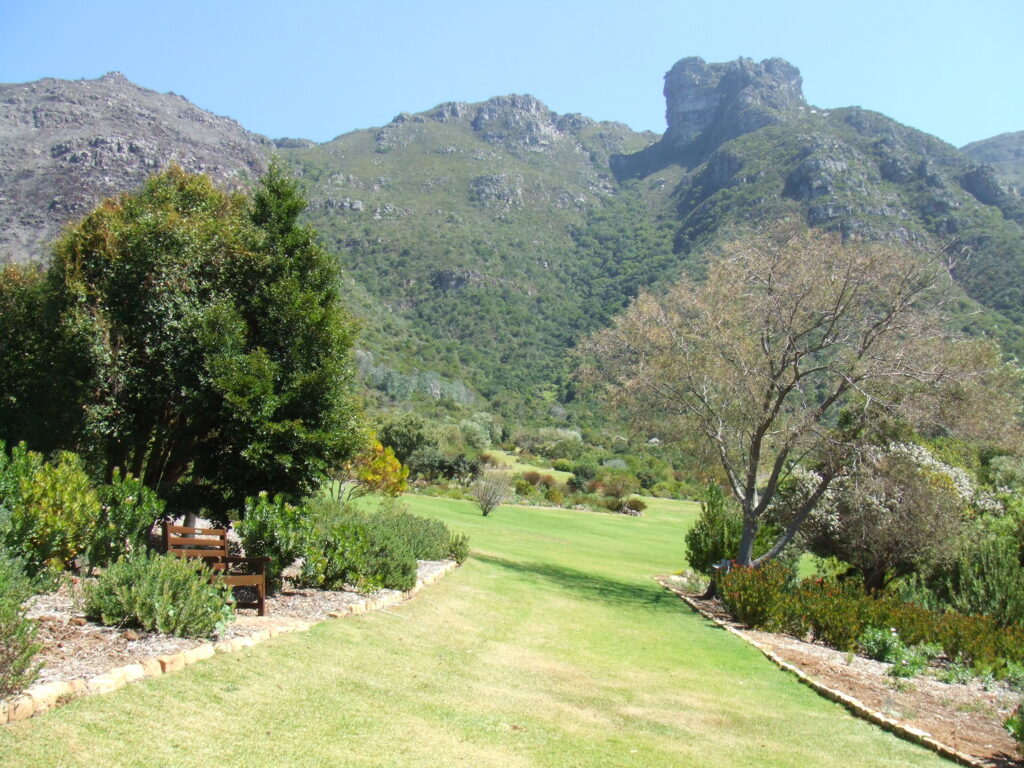 Acknowledgements
The graphics on this site were created by M. Weiss/CFA, INAF/OAPa, ICRAR/University of Amsterdam, NASA, NASA/SOFIA/Lynette Cook, NASA/JPL-Caltech, Dana Berry/NASA Goddard Space Flight Center, Casey Reed/NASA and NASA/JPL-Caltech.